Learn More
About
Keystone
The Keystone Story
A keystone provides connection, strength & integrity, allowing light to reach places that would otherwise be dark.
Keystone Substance Abuse Services was established in 1969 with this guiding principle in mind.
An Established History
For nearly fifty years, Keystone has offered hope and affordable professional care to persons in our community who find themselves in difficult times due to health problems from Substance Use Disorders. When our patients' lives are impacted by this serious health condition, we treat not only symptoms; but the entire person, improving quality of life for the individual and their family by educating, treating and providing support.

Our Mission
To improve the quality of life for individuals and families by educating, treating, and providing support for those impacted by substance use.
Our Vision
To be the top community resource offering hope for all those struggling with substance use.
We will generate evidence-based economic development & improve quality of life in the community by:
Expanding the range of health services offered
Supporting the delivery of evidence-based prevention, intervention & treatment practices
Decreasing costs of healthcare & criminal justice
Increasing educational & vocational success
Partnering to strengthen service accessibility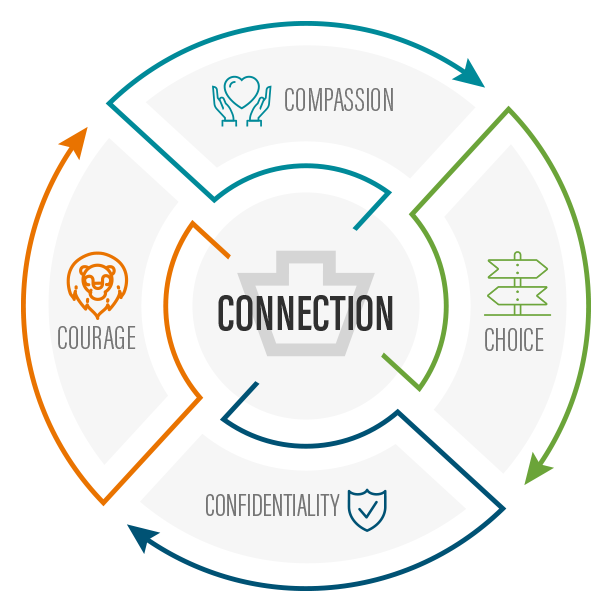 Keystone Substance Abuse Services
Core Values
Keystone: the connection that locks surrounding structural elements in place.
Patients facing serious medical situations need a warm, supportive environment free from judgment and distraction. Our three campuses in Rock Hill, South Carolina include a Prevention Center, a newly opened Youth Center, and our Main Campus which houses adult inpatient and outpatient programs.
We are a private-public partnership that provides low-cost holistic care to patients struggling with substance use disorders. We raise money to serve this vulnerable population primarily through grant-writing, charity events, and individual donations.
The staff and members of our leadership team form the heart of our organization. Many on our leadership team have been with us for 20 years or more, working hard every day to make sure that our patients receive the care that they need and that the community we serve understands our mission.
*The fine print about Keystone:
Not-for-Profit
Keystone is a private, not-for-profit organization that serves as the Act 301 (1973) substance abuse authority in York County, South Carolina.
York County's Largest Treatment Provider
Keystone Substance Abuse Services is the county's largest provider of treatment and prevention services. Keystone is internationally accredited by the Commission on Accreditation of Rehabilitation Facilities (CARF) and adheres to the definition of addictive disease as developed by the American Society of Addiction Medicine (ASAM) and the standards for service placement. Keystone is a charter member of Behavioral Health Services Association of South Carolina. The South Carolina Department of Health and Environmental Control and the South Carolina Department of Alcohol and Other Drug Abuse Services annually inspect Keystone.