Spartanburg, S.C. – During the 2016 South Carolina Nonprofit Summit held at the Spartanburg Marriott this week, Keystone Substance Abuse Services was presented the South Carolina Nonprofit Excellence Award, sponsored by Blackbaud, from the South Carolina Association of Nonprofit Organizations (SCANPO). Janet Martini, executive director of the organization, was presented the award by Monroe Free, president and CEO of Greenville Habitat for Humanity and last year's recipient of the Nonprofit Excellence Award.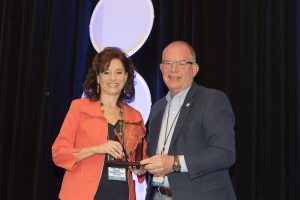 "We are honored and extremely excited to receive this year's award," says Martini. "SCANPO's resources are the foundation upon which Keystone's international accreditation in governance was built."
Keystone Substance Abuse Services of York County began in 1969 and offers internationally accredited and licensed services – including education, prevention and in/outpatient treatment – to meet the needs of individuals experiencing alcohol and/or drug related problems. Promoting health, offering hope and restoring healing to those impacted by substance abuse and addiction, Keystone Substance Abuse Services is the county's largest provider of treatment and prevention services.
"The SCANPO award selection committee and SCANPO board are thrilled to recognize Keystone Substance Abuse Services for their great work," says Derek Lewis, SCANPO board member and head of the selection committee. "What most impressed me about this group is the board and staff's continued commitment to self assessment and goal setting. This organization demonstrates daily that excellence in governance and management isn't a destination, it's an ongoing journey."
The South Carolina Association of Nonprofit Organizations presents the excellence award annually during the SC Nonprofit Summit. With more than 700 members representing thousands of employees, volunteers and donors, the Association goes through an intensive selection process to identify a member who has demonstrates nonprofit excellence. The recipient is selected by a committee and announced during the annual gathering.
SCANPO is the only membership organization focused solely on supporting and strengthening the state's nonprofit sector through education, advocacy, networking and leadership. Founded in 1997, SCANPO is comprised of 700+ members representing nonprofit organizations, business partners, associations, foundations and academic institutions. To learn more, visit scanpo.org. Connect with SCANPO on social channels: Facebook, Twitter, Instagram, LinkedIn and Google+.